Westwood Residences is a 99-years leasehold Jurong West EC located at Westwood Avenue in District 22. With expected completion in August 2018, it comprises of 480 units and stands 14 storeys tall. It is situated right Nanyang Technological University. Future residents will be able to access the nearby Jurong West Sports & Recreation Centre which is a short drive away for some family fun and gatherings. A truly unique lifestyle awaits you.
Westwood Residences EC has full and unique facilities, which includes a guard house, clubhouse, Function Room & Indoor Gym Tennis Court, 50m Pool ,BBQ Area Dining and outdoor fitness area. The condo's facilities provide full family entertainment needs for your family and loved ones. Indulge in a serene and tranquil lifestyle right in the heart of Jurong West.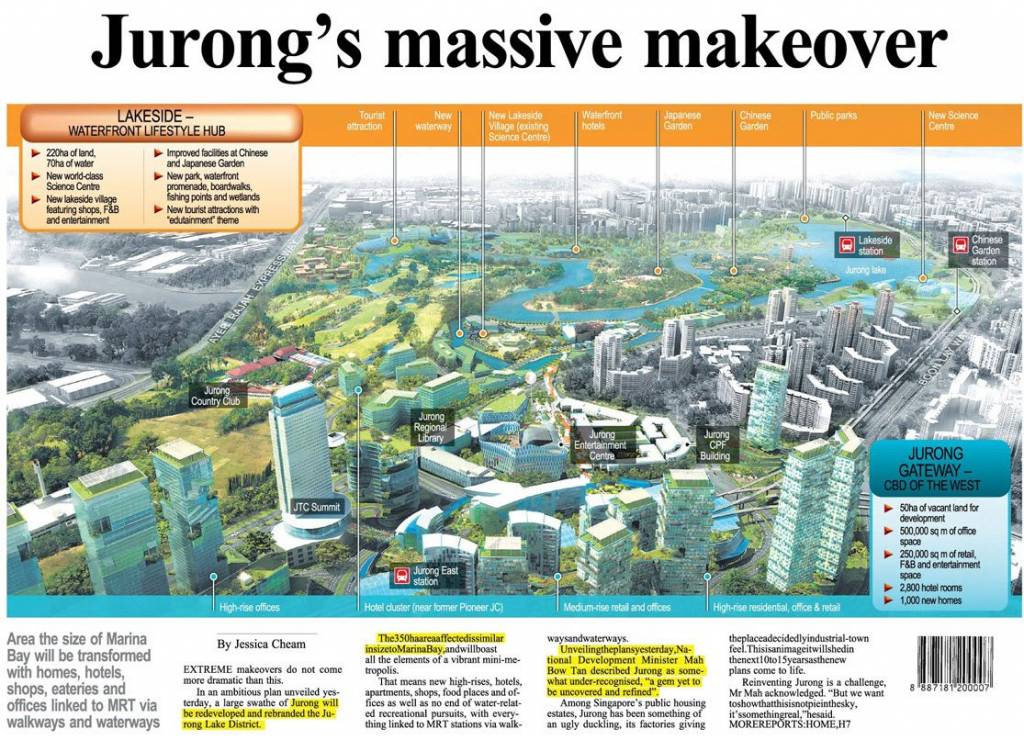 Westwood Residences
Several buses are available near Jurong West Avenue 5 and Jalan Bahar. Westwood Residences EC is also near to many shopping centers and restaurants. Westwood Residences EC is also near Gek Poh shopping centre and Jurong Bird Park. Entertainment for your loved ones and friends are therefore at your fingertips with the full condo facilities as well as the amenities near Westwood Residences EC.
Westwood Residences EC will be accessible with Pioneer and Boon Lay MRT Station. It is also right beside Pan Island Expressway (PIE). Westwood Residences EC is also near to Boon Lay Shopping Centre and Boon Lay Place Food Village.
| | |
| --- | --- |
| 1st Bike Theme Development |   |
| | |
| --- | --- |
|   | Bike Facilities |
Westwood Residences EC is also near elite schools such as Nanyang Technological University (NTU), Jurong Junior College and Westwood Primary School.
For vehicle owners, it takes less than 30 minutes to drive from Jurong West to the business hub and vibrant Orchard Road shopping district, via Pan Island Expressway (PIE) and Ayer Rajah Expressway (AYE).
Westwood Residences EC in Jurong West
A wonderful and unique lifestyle awaits you at Jurong West. Please see Westwood Residences EC project details and floor plans for more information.
| | |
| --- | --- |
| | Showflat Pictures Here |
Living in Jurong West
Living in Westwood Residences remains an authentic experience as the Jurong West area has a long history of heritage when estates such as Boon Lay, Tanam Jurong as well as Bukit Batok were first built to house the population from the former Hong Kah Villages.
Jurong West area has a strong heritage as it was previously dominated by large areas of swamp and it was not until the 1970s that the government has decided to revent the area into its present housing estate which is now one of the largest in Singapore.Westwood Residences Executive Condominium being located in the Jurong West thus has a rich heritage from the surrounding areas.
The area of Jurong West is also extended to include the areas south of it and this houses now Nanyang Technological University. Therefore, the executive condominium owners are just minutes away from the Nanyang Heritage Centre. The new extension also houses Gek Poh Shopping Centre where residents can get their everyday needs a short distance away.
With the new announcement of the location of the High Speed Railway coming up in Jurong West, residents of Westwood Residences are thus in a good position to enjoy the facilities and the HSR will mean that they are just minutes away from KL where a range of budget shopping and eateries are available.
---
Koh Brothers Group is a Singapore based developer that started being a sole proprietorship by Mr Koh Tiat Meng way back in 1966. It is involved in many construction projects in many sectors including property development as well as many projects such as food alleviation and drainage projects.
Achievements Koh Brothers Westwood Residences
Some of the projects done by Koh Brothers are located in Rocher Canal, Marina Barrage as well as Bukit Timah and Kallang River. Koh Brothers is also involved in many of the residential projects in Singapore such as Lincon Suites as well as Florenza of which both projects enjoy recognition from the owners due to high quality of the homes delivered by Koh Brothers.
The Marina Barrage which has just been awarded the Superior Achievement Award is also a proof of Koh Brothers achievements and desire to be a reputable real estate developer in the residential property market sector in Singapore.
Westwood Residences
Their latest project at Westwood Avenue EC, called Westwood Residences is also another quality project that is added to their portfolio of projects. Westwood Residences also has helped Koh Brothers to reach into the popular Executive Condominium Segment due to the popularity of the hybrid residential property scheme.
Koh Brothers will continue to diversify their portfolio into many other sectors such as constriction, building materials as well leisure and hospitality
---
Government to Reduce Supply of EC Land
The government is expected to trim down the supply of land intended for private and EC housing on the confirmed list for H1 2015 Government Land Sales (GLS) programme due to rising vacancies and sluggish sales, according to property experts in media reports. Therefore existing land like Westwood Residences will continue to be in demand.
Chua Yang Liang, JLL's Research Head for Southeast Asia, said, "The period of supplying sufficient land to meet the pent-up demand arising from the large population growth between 2007 and 2009 is over. Now the state is likely to be looking at maintaining sufficient new supply to meet the long-term housing need, i.e. from new household formation in Westwood Residences".
Westwood Residences Land Sales
In concurrence, Savills' Alan Cheong noted "the general undersupply situation has been resolved and thus the GLS Programme may reflect a more sedentary pace in line with demographic trends."
R'ST Research believes the land to be released under the confirmed list for the second half of next year can yield about 1,900 units and this include Westwood Residences, while JLL projected a higher figure of around 3,700 units.
On the other hand, experts feel that land on the reserve list would be enough for 6,000 to 7,000 private homes, including Executive Condominiums (ECs) like Westwood Residences. This is roughly the same as the 6,305-unit supply in H2 2014 and will serve a buffer in case there is a rebound in market demand.
Land Sales for Westwood Residences EC
In terms of location, the government is expected to release land for EC and private housing in Punggol, Woodlands, Sengkang, Jurong Lake District and maybe even at the Seletar Farmway area.
"…there is potential to release more EC sites in Jurong since the area is fast rejuvenating, and given the near sell-out of Lake Life at its recent launch," said R'ST Research Director Ong Kah Seng.
Westwood Residences Demand
In the EC segment, Ong predicted that government would reduce the supply on the confirmed list for H1 2015 to merely 500 units compared to 1,520 units in H2 2014, but Colliers International's Director Chia Siew Chuin projected a higher figure of about 1,000 units.
---
Westwood Residences EC Eligibility
Westwood Residences EC Eligibility guide
1) Main applicant must be a Singapore Citizen and above 21 years old. Co-applicant can be a Singapore Citizen or Singapore Permanent Resident.
2) Both applicants of Westwood Residences EC must be either First Timer or Second Timer (Existing Owner/Ex-Owner of HDB Flat).
3) Applicants must form a valid family nucleus to buy the EC under one of the HDB's eligibility schemes: Public / Fiance & Fiancee / Orphan / Joint Singles (min 35 yrs old).
4) Applicants combined household gross monthly income must not exceed S$12,000.
5) Applicants and occupiers listed in the application form must not own or dispose of any private property within 30 months before the date of application and between the application date and the date of taking possession of the EC.
6) Second-timer applicants who are Existing Owner or Ex-Owner (a flat, resale flat with CPF Housing Grant, DBSS flat from developer) must meet the 5-year Minimum Occupation Period (excluding any period of subletting of whole flat) before application of a new EC.
Westwood Residences EC
Westwood Residences EC eligibility guide reference: